Dermaceutic Cosmo Peel kit 15% - 18 treatments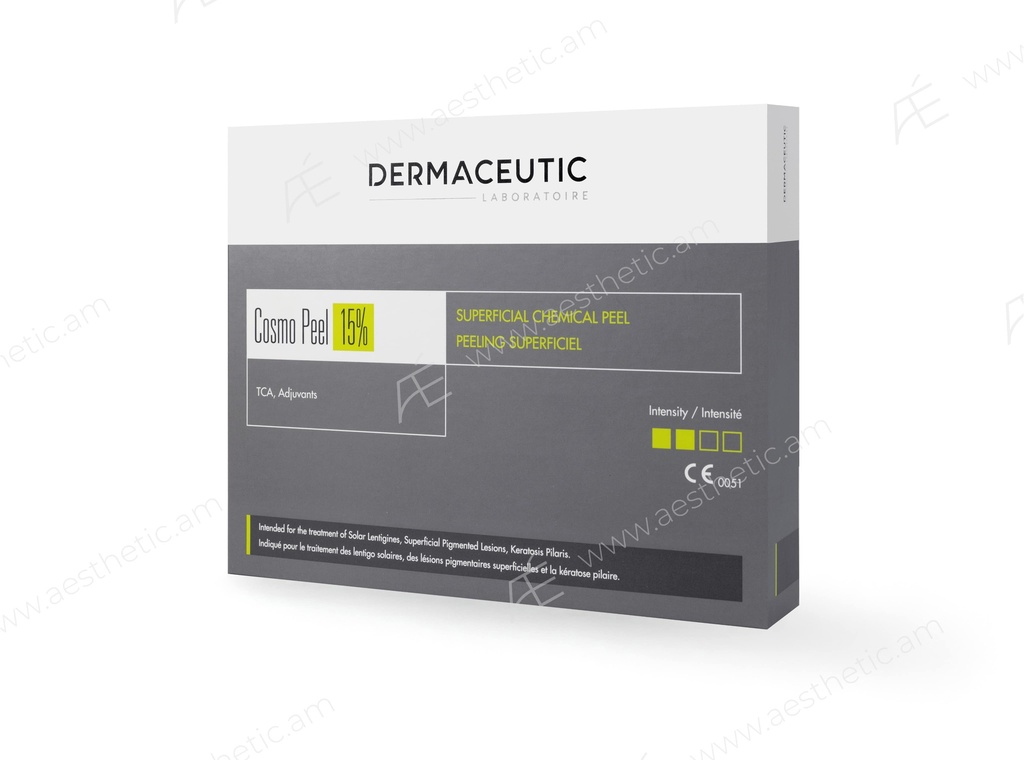 Dermaceutic Cosmo Peel kit 15% - 18 treatments
The Dermaceutic Cosmo Peel Treatment 15% is a superficial chemical peel designed to reduce visible signs of ageing, acne and pigment spots while improving skin texture.
This peel can be used for the treatment of Keratosis Pilaris, Superficial Pigmented Lesions and Solar Lentigines.
Cosmo Peel 15% class IIA medical device 30ml by Dermaceutic is aimed at correcting age-related changes, post-acne spots, atrophic scars and skin laxity.
Ingredients: 
Trichloroacetic acid 15%: pH ≈ 0.5
Cosmo cream: Dextran sulfate, allantoin, hyaluronic acid, vitamin C, calendula extract - pH ≈ 4.8
Foaming agent 15: Glycolic acid, Enoxolone - pH ≈ 4.1
Benefits:
Eliminates pigmented lesions
Thanks to the exfoliating effect it relieves keratosis pilaris
Strengthens the production of collagen and elastin
Homogenizes and revitalizes the skin
Represses the signs of premature aging
How to use:
In clinical protocol: 2 to 4 times at varying intervals, depending on the condition of the skin and the TCA concentration.
Foam 15: Use as a facial cleanser.
TCA: Apply to the face. Wait for 1 - 2 minutes. Apply additional layers if necessary. Do not rinse off.
Cosmo Cream: Apply to the face with massaging strokes. Rinse off after 4-8 hours.

Manufacturer: Dermaceutic Laboratoire