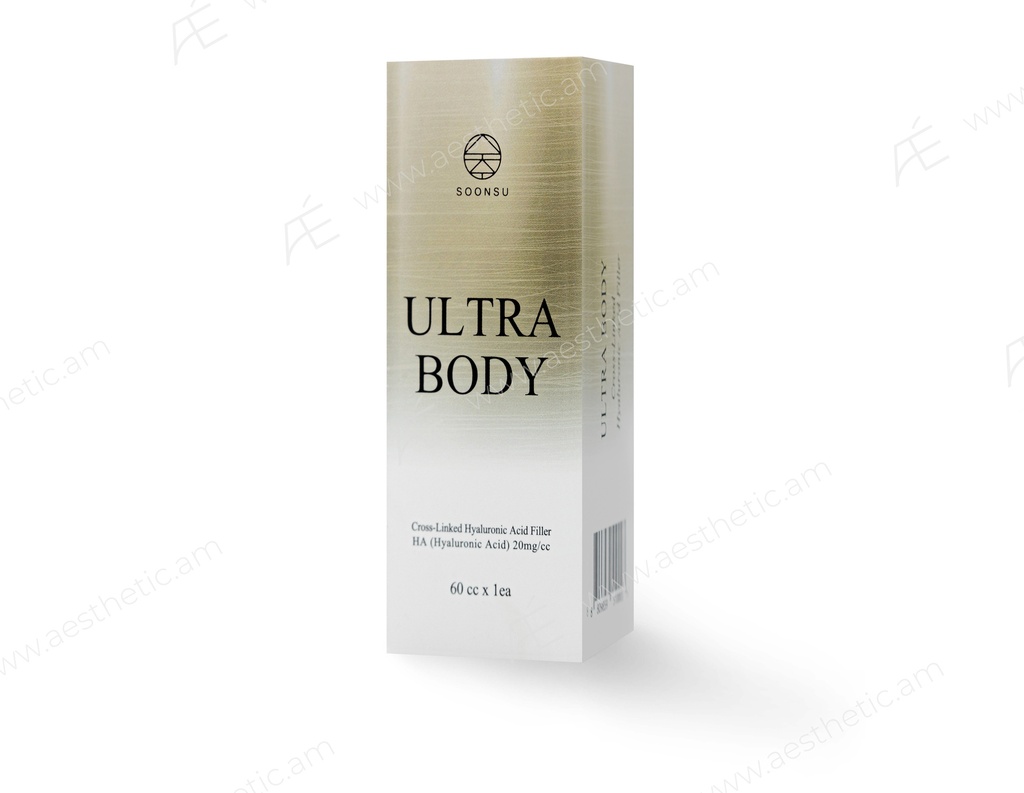 Ultra Body
60cc x 1ea
Ultra Body is a hyaluronic acid (HA) based filler designed for volume restoration and non-invasive breast and buttocks reshaping.

Ultra Body by Soonsu is a hyaluronic acid (HA) filler designed for restoring lost volume in specific areas and achieving non-invasive breast and buttocks enhancements. This product is manufactured from non-animal sourced monomeric HA, carefully cross-linked for high viscosity, making it ideal for non-surgical body contouring and addressing deep wrinkles. It is free from endotoxins and cross-linking agents, ensuring safety.
With a pH level of 7.0 matching that of cells and tissues, this product is biocompatible and hypoallergenic.

Key Features of Soonsu Ultra Body:
 - Precise local volume restoration
 - Long-lasting results 
 - Three-stage purification for safety and hypoallergenic properties
 - Contains lidocaine for minimal procedure discomfort

Soonsu Ultra Body is suitable for:
 - Restoring localized volume
 - Treating deep wrinkles
 - Reshaping the breasts
 - Enhancing buttocks contours


HA 20 mg/ml, Lidocaine 3 mg/ml
The product isn't intended for personal use due to certain restrictions, and should only be administered by a trained medical specialist.
Your Dynamic Snippet will be displayed here... This message is displayed because you did not provided both a filter and a template to use.

ALTERNATIVE PRODUCTS